Who are you? Where are you from? Yea but.. where are you really from?
Borders are around us and even within us, the earth may be round and without angles but borders continue to exist. Geographically, psychologically, mentally, religiously, sexually and so on. Can you imagine a world without borders? One where each comes with an unarmed mind willing to accept the other without labels? One where age, race, ethnic group, gender does not solidify the walls between 'us' and 'them'?
The Paris School of International Affairs launched the Youth & Leaders Talks and I was privileged to attend the event. Its Ted Talks-esque nature made it appealing but I was also interested to see what my fellow students would share as this was an event designed for and by PSIA students to basically showcase the PSIA Community in all of its diversity and strengths. It certainly did!
The theme of this inaugural edition was "Crossing Borders" – a special guest speaker, General Vincent Desportes and six student speakers shared their personal experiences and interpretations of what it meant to cross borders, be they tangible or intangible. Even as each one spoke on issues that differed, it all came together to create an inspiring and thought-provoking atmosphere.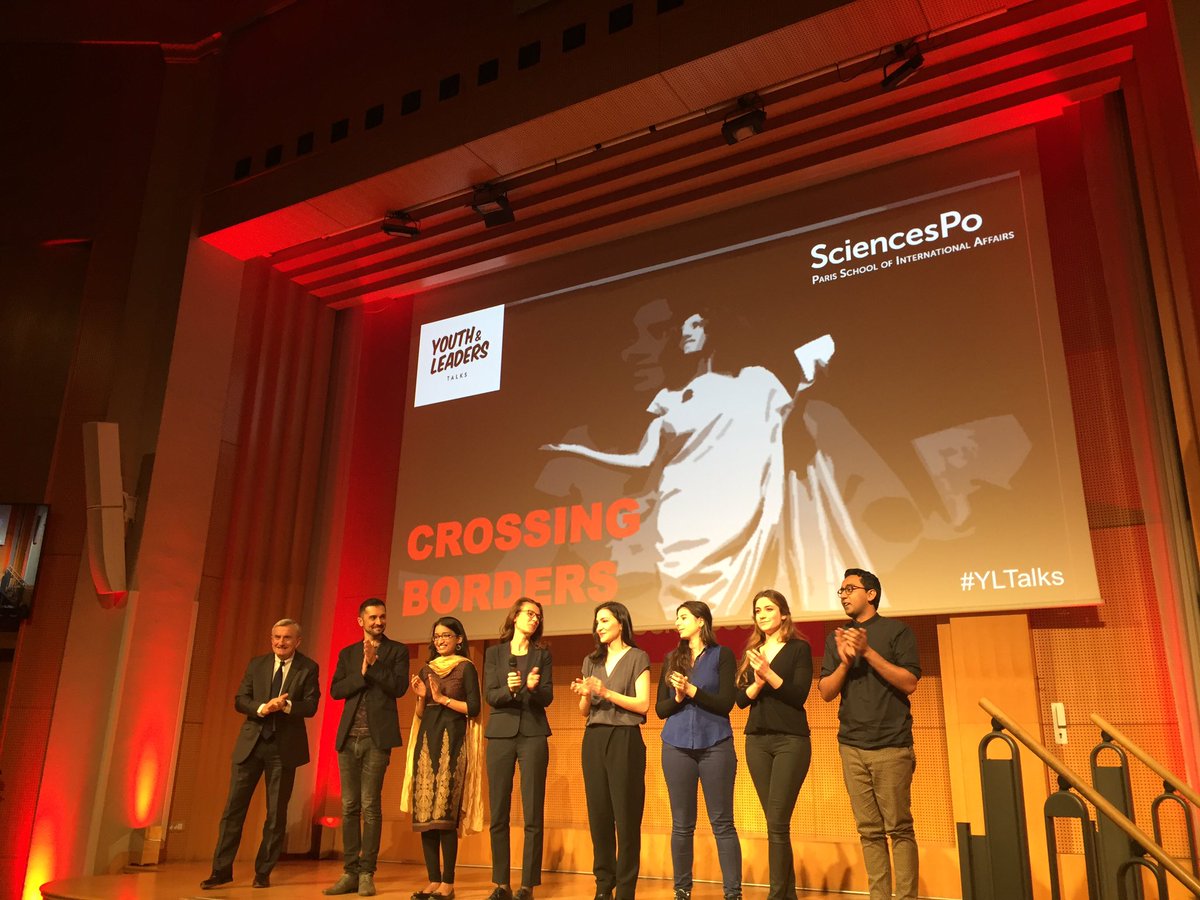 We journeyed from South Africa, where Piroshin discusses apartheid and his experience growing up, to Mexico where Marianna leaves her comfort zone to champion a fight against human trafficking. We made our way into the battlefield with General Desportes to identify our 'Mont Blanc' (obstacles, limitations) just so we could overcome them. Nadia talked about ascribed identities and how she's taking charge of what defines her. Mehrdad implored us to unite and pull down boundaries of age, gender etc that exist to separate us. Carolina shared her experience with straddling two worlds and embracing the two by making the borders fluid. And Nikita's trip from India to Pakistan was such an eye-opener for her.
Key points made by the speakers:
Recognize the limitations and borders within yourself, and then go ahead… shatter them.
There is so much room for growth if only we would cross over boundaries and go over our comfort zones. Imagine the possibilities beyond the limitations within you.
Borders separate, hold us back, divide and segregate. Crossing borders is not easy but so much growth and potential is unleashed when we do so.
We are not one thing, we are a multitude of things, we are overlapping. Don't starve off certain sides of yourself, embrace them, make those borders fluid.
"Change is a continuum, change is continuous, age is an artificial border" – Mehrdad Pourzakikhani
"This is creativity… to derive meaning from complete chaos and find connections where there were none…" – Carolina Brandào
"Gender can be a boundary that thrives to reduce an aspect of the diversity of human identity into a boundary.. a dichotomy" – Mehrdad Pourzakikhani
"I am 100% French. It's up to me to decide & disclose. Embrace the layers." – Nadia Noumri
"Our soils are parted, let's not part our souls" – Nikita Singla
Personally, I'd say I am still in the process of crossing borders. Everyday for me is an opportunity to step out of my comfort zone, confront my fears and break stereotypes. Some days I succeed, other days not so much.
What are boundaries and limitations within yourself? How could you start to break down these limits? Share in the comments below, your experiences or interpretations of what it means to cross borders.
Self-reflection is key.
Enjoy Cecile Emeke's Strolling Series. Start from France, make your way to Italy… Explore the Netherlands… Now off you go to Jamaica.  Venture into the United Kingdom and check out the United States, the land of many burgers.
Also, what do you think of Taiye Selasi's TED Talks – Don't Ask Where I'm From, Ask Where I'm a Local?